Understand your reader and your audience generally is a huge part of being successful. Without it, you're shooting arrows in the dark. Knowing your reader (or your avatar as Jeff Walker described it) is a fundamental piece of your business roadmap. Don't know where to start? Don't worry, I have your back.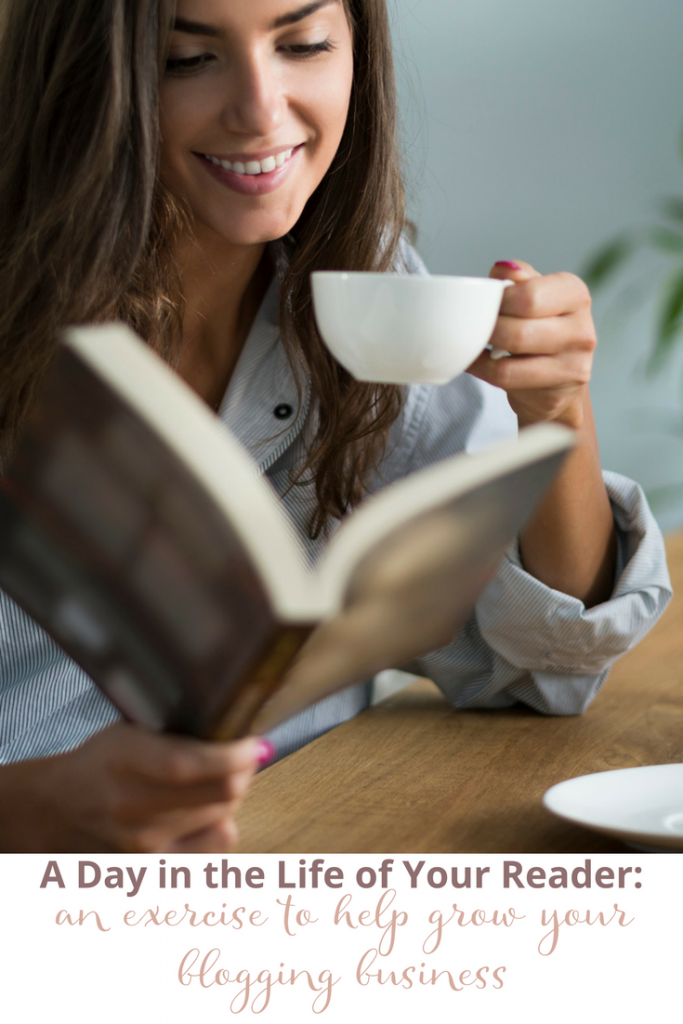 Steps to Defining & Knowing your Reader
Have a vision of your reader, a real person, what he likes to do with his day and his habits
Outline Demographics (age, gender, kids, home, income, etc.)
Identify his pain points (these points are the problems you're going to solve for him)
Know what excites him, what scares him, what angers him, and what inspires him
Imagine your avatar reading your post or opening up your newsletter
Develop a map of your reader's day
Developing a Day in the Life Reader Map
Close your eyes and consider your reader.
Imagine her day. What time does she get up in the morning? What is the first thing she does? What does she eat for breakfast? Literally, map out her day.
Literally, map out her day.
6 am: Wakes up to a quiet house. Makes drip coffee and opens her laptop to check email & the news via Gmail and Facebook. Make an egg & toast for breakfast. Puts out breakfast things for her children & empties the dishwasher.
6:45 am: She hears the first pitter patters of her children. She greets them with open arms and a big smile.  They hop up on the stools at the counter and she pours cereal for them. While her two kids are busy talking about their dreams and eating cereal, she slips into the laundry room to start a load of laundry & change into her day clothes.
7:15 am: Kids head upstairs to get their day clothes on and to brush teeth. She shouts up the stairs to remember to make their beds. She picks up breakfast dishes thinking to herself that she needs to find a good routine and chore chart for her 5 and 7-year-old (two girls) and places them into the dishwasher.
7:30 am: Her girls come bounding down the stairs and ask if they can use their Kindles. She reminds them of their reading time (for at least 20 min) before Apps. They both sigh, her younger daughter stomps a foot but both search a nearby basket of books for one that interests them. Her five-year-old announces she'd like to start reading chapter books. She makes a mental note to check out early chapter books for her five-year-old.
8am: Hustles her girls to the car. Helps her 7-year-old find her shoes and makes a last minute grab for her 5-year old's backpack. The commute to school includes a light snack in the car (apples usually), audio books, or podcasts.
9 am: After dropping the kids off at school, she decides to treat herself to a coffee through the Starbucks drive thru. When she arrives home, she opens up her MacBook Pro and checks social media groups and emails.
10 am: She changes into her running clothes (mainly Under Armour and Lulu Lemon) and her running shoes (Mizunos). She heads out the door with her earbuds secured in her ears listening to her favorite Spotify list or an Audible book.  She showers after she gets home but only after answering a few emails.
12 noon: Her lunch is simple, a tuna sandwich and glass of milk.
1 pm: She showers, does a few chores around the house, changes the laundry, and heads out in her Volvo XC90 to make a quick stop at her local grocery store before picking up her girls at school.
You see where I am going with this one?
So, now it is your turn. Get creative and sketch out your reader's daily map. Walk with her throughout her day. I also created this simple worksheet for you. Please make a copy of the sheet in your own account! Thanks!

Go ahead & download this customer map exercise to help you define your reader and to walk through a day in the life of your reader's day.
Let me know how it goes! See you in our PRIVATE Facebook Group!
Marnie