Have you heard that blogging has a lot of potential for making money? Maybe you have friends who are bloggers who really enjoy it and are earning a lot of side money from it. Maybe you even know someone who makes their full time living from it, and you've always wanted to do the same but you fear you're getting in on the game too late.
Many of the highly-trafficked blogs making a lot of profits have been around for a very long time. If you spend any time in blogging groups and communities, you'll also see a lot of people asking how they can make more money with their blogs. It's possible you've even heard a lot of bloggers saying they're not making any money blogging.
Does this mean it's too late to get into blogging?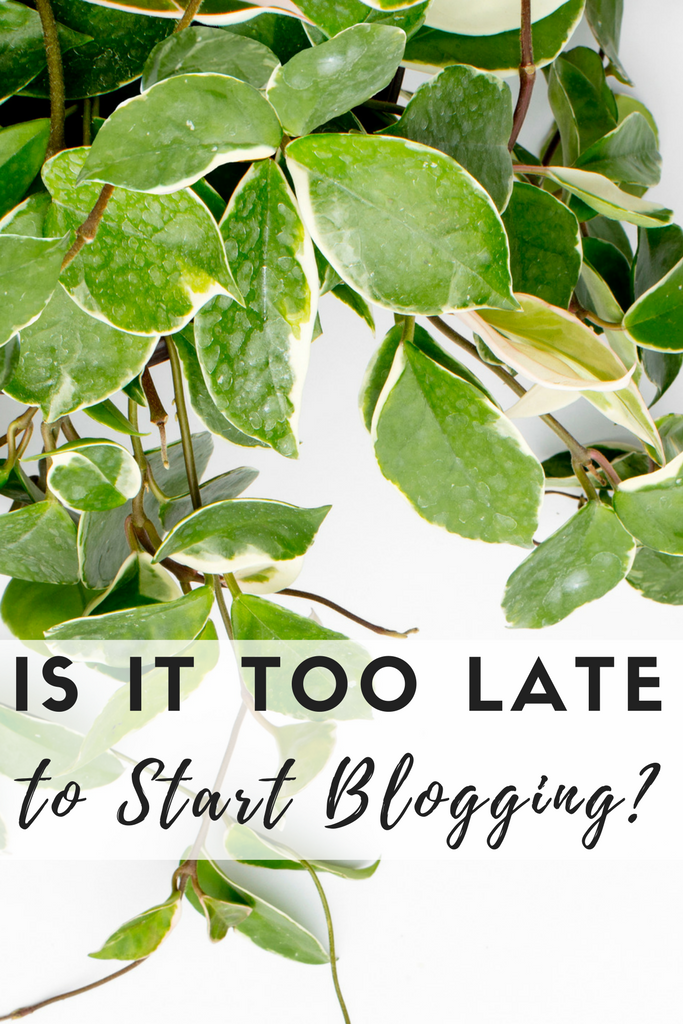 Well, it's never too late to get into blogging, but the first thing you need to determine is your blog purpose, and then your goals.
Why do you want to start a blog?
What do you hope to accomplish with your blog?
Do you want to make money with your blog? How much money do you want to make?
Related Read: How I Make $1000s Every Month with My Newsletter
It's never too late to start a blog. You can do so today if you want to, with relatively no investment. There are blogging platforms that let you sign up and use them for free, and with the what-you-see-is-what-you-get editors, it doesn't require any special computer or programming skills.
That said, if you want to start your blog off right, it's important to know your purpose and goals in the beginning.
Why does this matter?
As the saying goes, hindsight is 20/20. There are many bloggers who have come before who will look back and say, "I wish I knew then what I know now. I wish I knew the things I know now when I first started my blog."
Most of those bloggers who have been around a long time and have now found success did so through trial and error. There was no one around to pave the way for them. They were pioneers, learning as they go.
That doesn't have to be you, though.
You can glean a great deal of knowledge from those who come before and that includes knowing how to start out right to reach your blogging goals.
If your entire purpose of blogging is just for fun, or for your own journals, then you can start any time you're ready. It's never too late, and there is minimal prep you need to do first. Just decide which platform you want to blog on and then start writing.
However, if you have goals to earn a certain amount of money from your blog, you'll need to start over with a bit more planning and prep. Treat your blog the same as you would a business. Start with market research. Look at your competition.
Is your blog idea marketable? Is the market overly saturated already? What will you bring to the niche that is new and unique? When you've settled on your blog niche, things like your URL and blog name, and who you're targeting with your blog, you also need a business plan.
Related Read: Which Blogging Niches Make the Most Money
Draft a business plan for your blog and plot out all the goals you have for your blog, along with the steps for how you will get there. Study. Take a course from an expert if you really want to succeed. Join groups and network with other bloggers who are succeeding in the ways that you want to.
If you want to succeed with your blog. it's important  you take it seriously and doing so from the start will help you meet your goals. This doesn't mean you can't have fun with it, or that it can't still be something very personal to you. It just means that in order to meet your goals, you need to come at it as more than just a free time hobby.
So, is it too late to start a blog? No, of course not. If you want to join the blogging scene, dive right in!
That said, the days of finding success with some random blog are pretty much over. There are just too many of them out there these days. If you want your blog to be seen by anyone other than you and your closest family and friends, you'll need to think on your niche and find a way to offer something new. This is the only way to truly stand out.