Here are the steps I take the optimize SEO on my blog posts. I write posts based on what people might want to read and based on SEO optimization. There is a fine line. I find writing how I need to write and am able to best write works best for myself and for my readers. Accessibility and authenticity is a big goal. Readers will see through contrived content trying to fit into some SEO parameter. With that said, don't be a dreamer in your writing. No one likes listening to or reading a "talking head".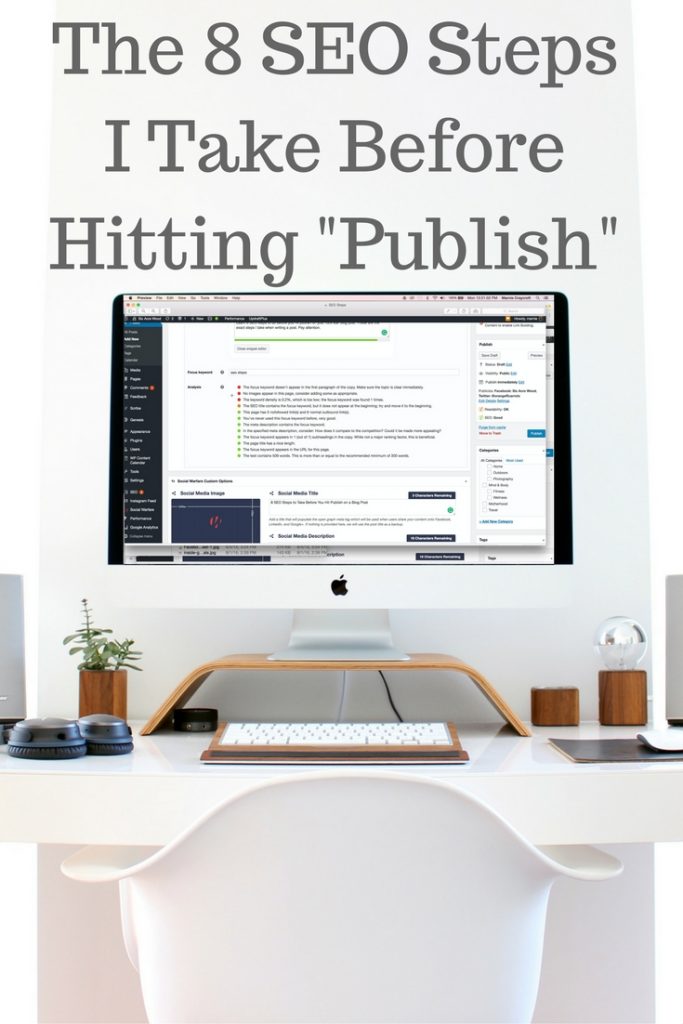 8 SEO Steps to Take Before You Hit Publish on a Blog Post
#1 – I write the post without constraints (except I do use Grammarly) not without thinking about my point. You need structure to your post in order for your post to be reader friendly. Yoast has a great post on effective post structure.
#2 – I write a headline that I think might work. Sometimes I go to the google search page and type in my general topic to see what pops up in the search drop down.
#3 -I test the headline using CoSchedule's Headline Analyzer & Yoast's SEO Plugin.
#4 -I choose focus keywords, which, to be honest, are already in the back of my head before I started writing the post. Your focus keywords are the focus words of your more general topic.
#5 -I include these focus keywords in my blog post title and headlines. H2 & H3 are the big ones for blog posts. H2 is a sub-heading of the category or title, while H3 is the sub-heading of the sub-heading.
Hold tight! I can help you with these SEO Steps! Oh, Download this SEO cheatsheet!
#6 -I name the images I include in the post using the keywords. You want to name the image, add alt text, and ideally include an image description that includes the focus keywords.
#7 -I create a slug that includes the keywords. Your slug is your URL, should be user-friendly, and should ideally include your focus keywords. WordPress automatically generates a slug based on your post's title. The slug is how you create a permalink. You can change the slug, although best not to do so after you publish a post unless you are prepared to set up redirects (that is a topic for another post).
#8 -I include a meta description. The meta description is a short paragraph that search engines will profile on the search page when your post pops up in the search. You should optimize this meta description for SEO and consider it your last call to action for your (potential) reader.  So, including the focus keywords is a good idea and a call to action such as "Learn how.." or "Check out…".
Overwhelmed by these SEO Steps?
These details might overwhelm you. I get it. Here is the thing, though, once you start your workflow, all of these steps will become second nature. The more you do it, the more automated it becomes for you. That is the name of the game.
Good luck! Don't be afraid to get in touch with me with questions! Don't forget to download the cheat sheet!
Marnie