Critical Pinterest for Blogging Businesses – Tips and Tactics
My biggest piece of advice and one of the biggest mistakes I see by small business owners is not thinking from the viewpoint of your customer or your reader, not your brand or yourself. Curate a Pinterest profile that reflects that thoughtfulness. Think about what your reader loves, what she struggles with, and what she desires…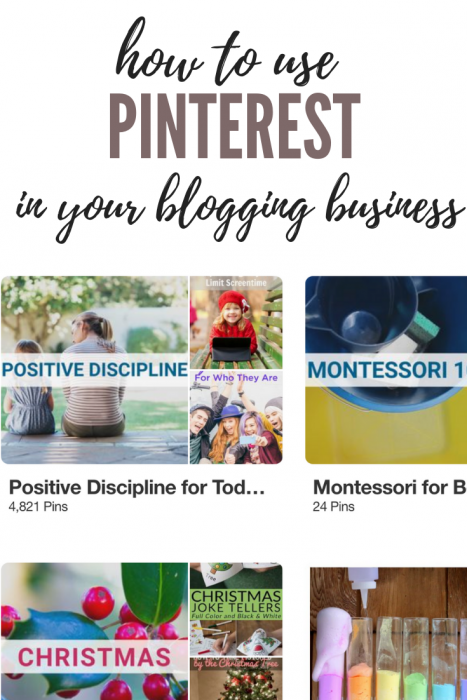 Pinterest for Business Images
Pinterest is all about images. The optimal sizing is a vertical image. I hesitate to give exact dimensions. Generally a good base is 735 x and then make the image as long (or short) as you'd like. As always, monitor Pinterest analytics to gain insight into what works and what does not for your profile.
Cover images are a thing now. The ideal size is square. I used the social media template on Canva, which is an 800 x 800. Then you upload it as a new pin, edit the board, and choose the square cover. Below is an example of boards with and without specicif board cover images.

The Importance of Text on Pinterest
You have a lot of opportunity to play into the Pinterest algorithm. Your profile name, your profile description, your board titles, you board descriptions, and even the text on your images.
Social Engine Optimization
Pinterest is a powerful search engine. There are fun and easy ways to discover popular keywords and terms that resonate with your audience & with Pinterest's algorithm.
Here are a few ways to discover keywords & ideas for content within Pinterest.
Simply put a term in such as "Montessori" and see what auto-populates

Search for that term and discover other keywords connected to that topic such as "Montessori bedroom". Once you search, these terms will come up under the search box in the order (from left to right) of most popular

Search alphabetically

Search trending topics

Search by #topic

Review your notifications to see where your pins are being saved. Make sure it is relevant to your content.
Board Strategy
Include general board based on the Keywords identified in your SEO research but also include niche boards as well as boards based not only on your offering but on the interests of your reader. Make sense?
So, I have a Montessori Parenting Tips board but also have an Outdoor Learning board because I have found a lot of overlap between these two audiences.
Group boards have been known to assist in reach and exposure but honestly I have found them more of a nuisance. You want to have a focus on quality with every pin and every board. That means solid images and optimized copy. Group boards have never given me the control I need to feel comfortable. With that said, I am a member of several reputable group boards that do well for me.
With that said, I have left all group boards, by the way, and have removed most pinners from my boards. I have seen increased impressions with this move. I also archived boards with little activity and merged similar boards.
Board Organization
I don't have great tips for board organization. I play with it often. My first board is "Best of Carrots Are Orange" and then I curate based on the season and most populated and most popular boards. I have dedicated boards for popular topics on my blog. For example, I have a board for "Positive Parenting".
I created a square cover for my Pinterest board covers. To assign a square cover to your boards, I created a new image, uploaded it with a description and link to my blog content. I then edited the board and chose that image as the cover.
Pinterest Analytics
Critical to success is studying what works and what doesn't work with your content & your strategy. Pinterest & Tailwind both offer a lot when it comes to analytics. So, you have a lot to work with on both platforms.
On Tailwind, I mostly use Board Insights (over a 30 day period at least). I want to gauge engagement, activity, and results. I look at group and regular boards, and don't pay much attention to my secret boards.
There is a lot more to say about analytics but in the meantime just start playing around and exploring the data. You will be amazed at the insights.
Pinterest Online Courses & Resources
FREE Pinterest Resources