I am not going to compare and contrast Facebook Pages to Facebook Groups. Folks, let's get this fact out there right now, the two options provide wildly different opportunities for your online business. Think of Facebook pages as a newsfeed rather than a community. Your private groups are your community, your family. Don't give up Facebook pages just yet, but, if you have to choose, spend time building your private Facebook groups.
How I Am Building My Business Using Private Facebook Groups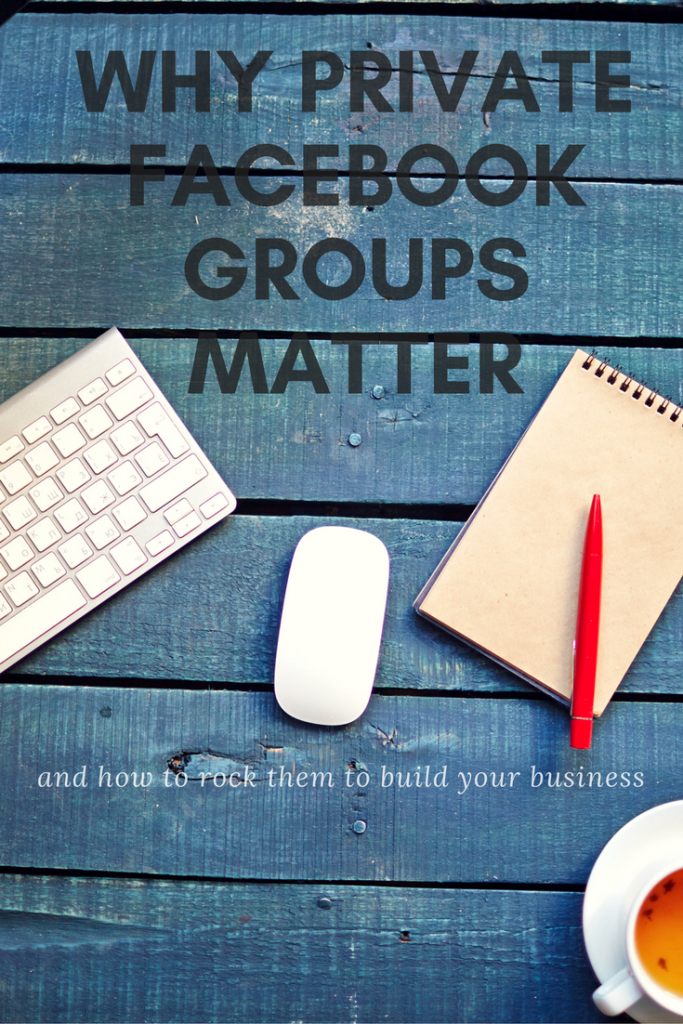 Why Private Facebook Groups Work
Uumm, they're private? Yes! Exactly. However simply making a group 'private' doesn't automatically make the community safe and kind. Be weary of this reality because you can quickly lose faith of your followers. If you do it right, the privacy factor will play in your favor.
Your private group is an extremely warm audience. Not only are they interested in you but you now know the specific topic (hopefully related to your product or services you're currently selling) that's drives them.
The members of your private groups will drive traffic to your site. Don't overly promote your work but when you do, conversions will be high. People will want to click through to your post.
Tips for Creating an Effective Private Facebook Group
Choose a pain point/topic for your overall group that you know you're audience craves
Partner with trusted friends/virtual co-workers to help administer the group
Admins should approve new members and new posts to the group
Create & firmly establish ground rules and guidelines at the start and pin these guidelines
Welcome new members publicly
Create themes either every day or a few times a week. Readers look forward to the routine of themes. Create themes based on the most common questions you get from your audience. For example, in my Montessori Living & Learning group, I have a Montessori Mastermind Mind to meet the needs of people wanting to dig deeper into Montessori concepts. I also have 'Toddler Tuesdays' where we share ideas for young children in a Montessori setting.
Show up and engage relevantly
Show behind the scenes into your life and your projects
Don't overly promote your work. I have a 5:1 ratio. For every piece of content I post that does drive traffic or revenue to my business, I post 5 pieces of relevant content that aren't my own.
Pay attention to the words members use in comments. These words will work magic for your newsletter, FB post, and blog post copy.
Listen to your members. This one seems obvious but listening is one of the most effective ways to make your group work. If you listen you'll know their needs, pain points, what drives them, and what makes them laugh. Pay attention!
Make the group about the members, not about you or your business. The business will come!
Use members names. Everyone likes to hear their name.
Post 'get to know you' threads. Examples include 'What is your favorite hobby? What is one thing about you that would surprise us? Who are your heroes? What is your favorite food?'
Drive email list building. Once people get to know you and truly trust you, remind members that you have a blog with a newsletter. Create an opt in specifically for your members to give added incentive to sign up. Remind people they can subscribe via Facebook message, too!
Creative Ways to Build HIgh-Quality, Engaging Private Groups
Advertise on your public Facebook page
Link your groups & pages to one another.
Mention in every newsletter (a big driver for me)
Add an image or link to popular posts with relevant content (also a big driver)
Add a visual with link in your sidebar
Participate in other private groups. Engaging others will get them curious about your work!
Vet members by looking at their profiles and asking questions upon their request
Amy Porterfield field has a terrific podcast on How to Grow a Profitable Facebook Group that you should definitely check out.
Marnie