A few years ago, I had a post go viral. I didn't expect this post to go viral but as it turns out my readers craved the topic. The post happened to be a list post with 12 ways to integrate Montessori into your home. Lucky for me, each of these 12 ways linked back to 12 existing posts on my blog. I knew at that moment this post was going to be my first eBook. The stars aligned and sent me on my way.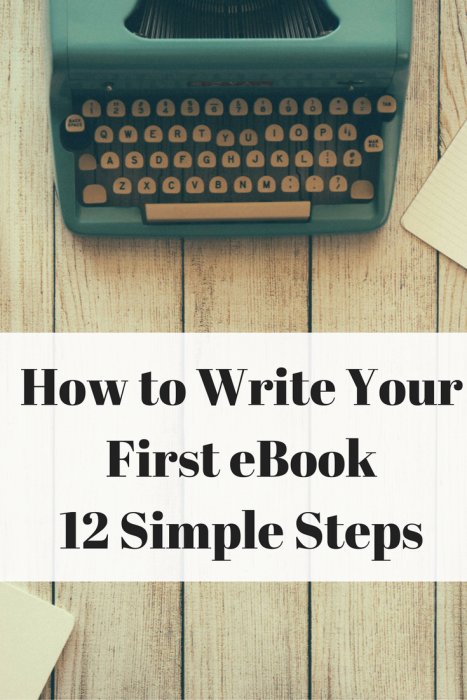 12 Steps to Writing Your First eBook from Existing Blog Content
#1 – Begin the Process
Once you've identified your most popular content and chosen a theme, you're ready to open up Google Docs. Here you will create a document for your eBook. Google Docs works well because later on your editor can access the document easily.
#2 – Create Your Outline
I literally copied and pasted the blog content from each of these 12 posts into Google Docs. These 12 posts became my eBook outline.
#3 – Add Meat to the Bones
Once I had the chapters outlined, I added a lot of meat to the bones. I knew that I couldn't simply take my posts and "write" an eBook. I had to offer more to my readers. Now, don't get me wrong, there are many people who appreciate the convenience of downloading an eBook (all the posts at once) and will pay for that convenience. That point didn't sit well with me. I wanted to add more value. I wanted my readers to walk away feeling inspired and knowing which steps to take next on their journey.
#4 – Add Bonus Content
Pleasantly surprising readers is always a good idea. At this point, I knew I needed to nurture my readers. Adding bonus content for them is how I chose to create a loyal following. My bonus content came in the form of downloadable printables from the content included in the book, a book of inspirational quotes, and a day by day how to implement guide.
#5 – Add Resources 
I never pretend to have all the answers. If I don't know something, I admit it, and I set off to find an answer. So, I included all these resources in the back of the eBook for my readers to access. These resources were in the form of blogs, blog posts, where to purchase materials, and products. I used my affiliate codes for many of the products included in this section.
#6 – Cover Legalities
Don't forget to add disclosure and copyright into your eBook. Here is what mine says: 
Disclaimer
Please do not reproduce and/or distribute copies of this book. This book may be purchased at w ww.carrotsareorange.com. There you may also read more from me, as I blog about Montessori living & learning activities, and parenting ideas. You may also purchase this eBook from Amazon.com and from my Carrots Are Orange Montessori TpT Store.

Underlined text is hyperlinked. Many resources link to blog posts and products that will help you achieve the Montessori lifestyle. Products may be linked to affiliate networks of which Carrots Are Orange is a member. Referenced books are affiliate links to Amazon.com. Carrots Are Orange receives a small percentage of
any affiliate sales.
#7 – Hire an Editor
I used Fiverr to identify & vet an editor to review my eBook. I enjoyed the process. It was quick and painless. I have used the same editor on all my books.
#8 – Hire a Designer
You want a professional interior and exterior design. I used Fiverr for this piece of the project, too. I hired a designer to create a 2D and 3D cover, to design the interior layout, and to format for the various platforms I'd need to promote and sell my eBook (e.g. Kindle, CreateSpace, and so on).
#9 – Set Up Shop
I opted for Shopify for many reasons. First, I didn't want the weight of hosting my eCommerce platform on my blog via a plugin like WooCommerce. I wanted my shop to be hosted elsewhere. Next, Shopify's design templates for your storefront are simple and lovely. I didn't want too many bells and whistles, just a clean storefront, and Shopify delivers on that desire. Finally, Shopify's integrations and apps are phenomenal. 
#10 – Build Your Email List
I had an extensive newsletter subscriber list but I wanted to discover exactly who might be interested in my eBook to maximize conversions. In order to do this step, I created an opt-in lead magnet within popular blog posts relevant to the eBook topic. I also created automated rules within ConvertKit to tag any reader who clicked through a specific URL within an email newsletter. From that point, I had an extremely warm list to market my eBook. 
#11 – Promote eBook 
I utilize private Facebook groups, my email newsletter, Facebook Ads, and my network to promote my eBook. Offer a free copy of your eBook to a fellow blogger and ask if you might be able to guest post on the topic on their blog.
#12 – Choose an Affiliate Program
Affiliates provide a lot of opportunity for exposure and revenue generation. I give a hefty commission of 50% if you're an affiliate on one of my products. I view the affiliate relationship as an equal partnership. Shopify offers easy to use affiliate applications. I am not 100% satisfied with my Affiliate program at the moment but it is allowing me to get my feet wet and create a strategy around my affiliates. There are great stand alone affiliate programs out there, like SendOwl for example. eJunkie is another program, but I am not as familiar with their offer.